If you play an instrument and like fiddle tunes, come join us for the Tune Circle, usually every 3rd Sunday (used to be Saturday), usually at the Hyattstown Mill, right before the Song Circle. See the main Song Circle page for this month's times and location.
If you've been to fiddle jams, you know they come in many varieties, and with different customs and unwritten rules (or sometimes written). We never know exactly sure how our Tune Circle will shake out (it depends who shows up — come and help shape it!), but it's always relaxed and friendly for all abilities and all ages, and most of all a good time.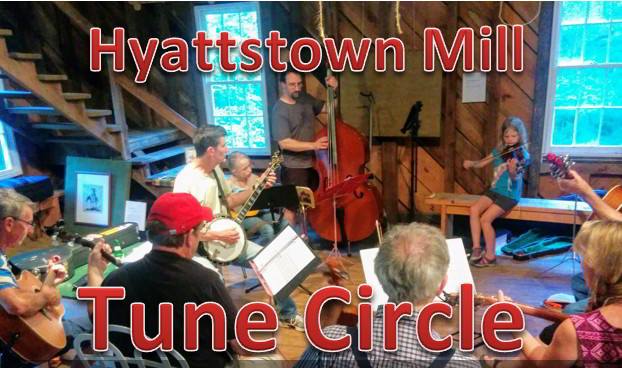 Irish? Old Time? Bluegrass? Something else? All play all-the-time, or take turns? Fast/slow? Allowed instruments?
We'll start out by going around the circle and each player will suggest a tune (passing is OK). If enough people know it, we'll play it. See the list below for a starter (reading is just fine if you don't know the tune). We'll add to this as we go. The person calling the tune sets the tempo, and gets to call whether it's all-play or hybrid (all-play through once, then trade to who wants to take one). We'll adjust based on how many are in the circle.
Non-traditional instruments are OK, as long as you can play with the group and aren't louder than the rest (electrics must be turned down, percussion played quietly). We're not going for purity, but we want to have fun playing music we love.
If you have a copy of the Fiddler's Fakebook, bring that, but if not don't worry. We don't have to stick with only tunes from that book.
Tunes (Updated August 2023)
Here are a few tunes to start out with. I'll have some printed copies to share. If you have some tunes you'd like to play, it's good to bring some copies in case not everyone knows them (and send them to me and I'll put them up here).
Got a lot more tunes in the book now. I'll bring a few copies but if you want your own, you can print one for yourself.
Single Tunes
Abe's Retreat
Amelia's Waltz
Angeline the Baker
Arkansas Traveler
Ashgrove
Ashokan Farewell
Blackberry Blossom
Bonaparte Crossing the Rocky Mountains
Carolan's Welcome
Cold Frosty Morning
Coleman's March
Cousin Sally Brown
Da Slockit Licht
Devil's Dream
Dill Pickle Rag
The Eighth of January
Fisher's Hornpipe
Flatworld Waltz
Golden Ticket
Grey Owl
Harvest Home / Haste to the Wedding
Hunting the Buffalo
Hole in the Wall
The Irish Washerwoman
Jeff Sturgeon
Jerusalem Ridge
The King of the Fairies
The Kesh Jig
Lark in the Morning
Liberty
The Lover's Waltz
Maison De Glace
Mayden Lane
Metal Man
Midnight on the Water
Morgan Magan
My Cape Breton Home
Old Joe Clark
The Old Grey Cat
Ookpik Waltz
Over the Waterfall
Peacock Feathers
Planxty Fanny Power
Planxty Irwin
Prayer for Ukraine
Pretty Little Dog
The Quail is a Pretty Bird
Queen of the Earth, Child of the Skies
Ragtime Annie
Red Prairie Dawn
Red Wing
The Rose Tree
Sailor's Hornpipe
Saint Patrick's Day
Sellenger's Round
Sheebeg and Sheemore
Sligo Creek
Sonny's Mazurka
Spanish Waltz
Steve's Celtic Aire
The Star of Muenster
Staten Island
Steciak's
Stone's Rag
Tater Patch
Vals-Clog Gillemette
Wagoner
Waynesboro
Wind That Shakes the Barley
Westphalia Waltz
Sets
Balsam Breeze / Moonbird Waltz
The Banshee / Cooley's Reel
Bonaparte Crossing the Rhine / John Ryan's Polka (Dum Dum)
Chinquapin Hunting / Benton's Dream / Sadie at the Back Door
Coleraine / One-Horned Sheep / Old Favorite
Deidre's Fancy / The Butterfly / Foxhunter's Jig
Evalina / Fly Around My Pretty Little Miss
Julia Delaney / Saint Anne's Reel / Growling Old Man and Grumbling Woman
To Keep the Sea Orc Fed / The Quarry Cross / Ballydesmond
Maggots in a Sheep's Hide / Raccoon Ate the Snake / The Girl I Left Behind Me
March of St. Timothy / Mairi's Wedding / Scotland the Brave
Poppies & Corn / Nixon's Farewell / Nail That Catfish to the Tree
Red-Haired Boy / Catharsis / Drowsy Maggie
Saute de Lapin / Doctor Doctor
Seneca Square Dance / Squirrel Hunter / Dancing Bear
Shenandoah Falls / Whiskey Before Breakfast / Old Joe Clark
Swallowtail Jig / Swinging on a Gate / Gallopede
Swallowtail Jig / Tenpenny Bit Jig / Lilting Banshee
Waterbound / Ice House
Slieve Russel / Kerry Polka
The Lucky Trapper / Bull Moose / The Wind That Turns the Mill
Here's the whole book to print.

Handy Chord Chart of lots of tunes